Improve your library patron engagement with Book Reviews and Ratings written by Library Users and Staff from all over the world. Every Review written in our system have been written by a Library User, through a Library Catalog. All reviews have been moderated by a Librarian.

Alongside the Patron Reviews you will find the Professional Reviews from several verified sources. Your community is used to finding them in your online catalog.
Features
See How Reviews and Ratings work?
Easy to implement with a FREE 30-day trial with no strings attached
You need to Sign up for ChiliFresh account. Then you will get ChiliFresh account ID and API key with implementation instructions sent to your e-mail. Add these parameters to your catalog's Control Panel. After you click save, Reviews & Ratings will start displaying in your search results and item details pages and look like this: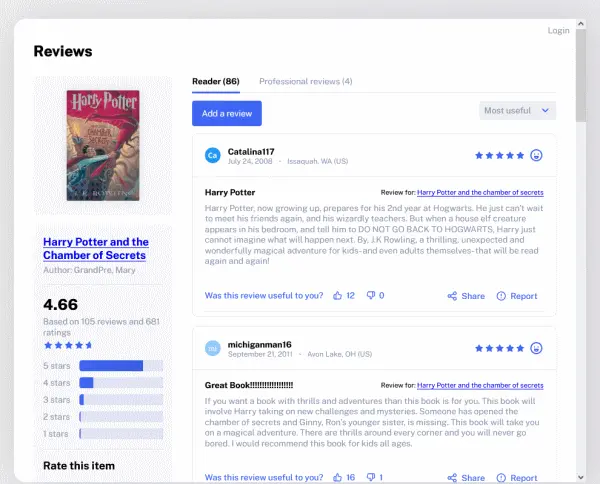 Highest quality book reviews and ratings
Every one of ChiliFresh Reviews is written by a library patron in a library catalog around the world. And every review is moderated by a librarian. That way there is no bad language or commercial promotions in reviews.
Libraries get access to ChiliFresh Admin panel where you can browse, moderate and edit patron reviews for typos. You can also suppress reviews coming from other libraries around the world if you do not want for review to appear in your catalog: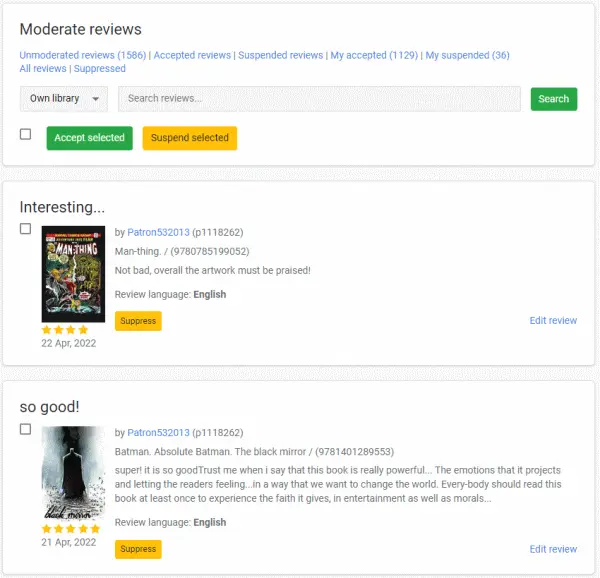 You get full control of the Book Review & Rating content displayed
Once you sign up, you get usable default settings for Reviews & Ratings. However, you can control everything - what languages the Reviews are allowed in, from which geographic regions and what library types (public, academic, school libraries, etc.) you want to display reviews from, etc.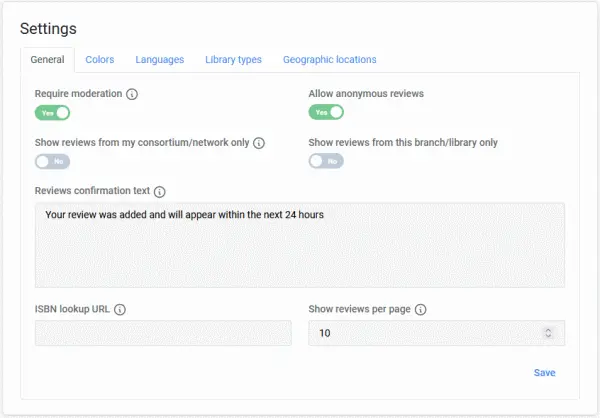 In addition to that, reviews are displayed based on usefulness:
Reviews from your library or library network are displayed on top
All other reviews are displayed in an order determined by usefulness of the review rated by other users
Showcase your user and staff activity on your library's website
Improve your library patron engagement by showing them recognition - add a simple widget that embeds with just one line of code such as this:
Get detailed user activity analytics on Reviews and Ratings
Measure user activity and engagement with analytics. See how many reviews have been read, how many ratings seen, which are the most popular items rated and reviewed. We also send automated monthly analytics e-mail to your staff.
You can also see which items in your catalog are getting most views. We also analyze which items get most reviews and ratings and much more.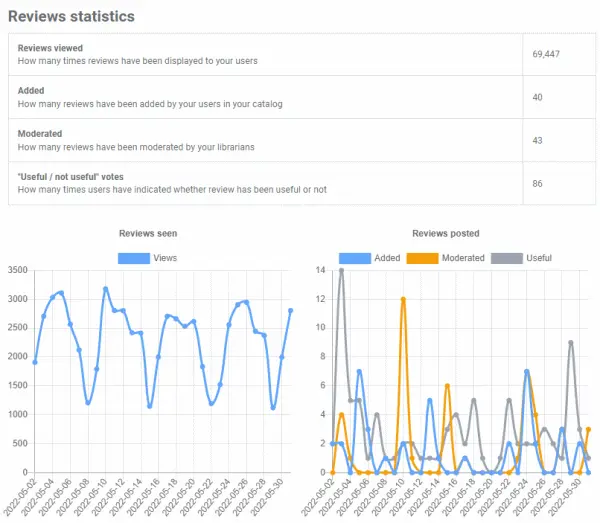 Book Reviews API access
All Reviews and ratings functionality - such as posting a review, retrieving reviews of an item or specific user, and even review moderation - are available over well-documented Book Reviews API to our customers. That way libraries may integrate ChiliFresh Reviews & Ratings into their custom projects in library catalog or library's website.
How ChiliFresh Book Reviews & Ratings work?
ChiliFresh Reviews and Ratings can be added to any of the library online catalogs. See for yourself ChiliFresh Reviews and Ratings in action in some of the catalogs here:
Go to any of the catalogs listed above, enter a search term and see reviews and ratings to appear on search results and item details pages right below the cover art of the catalog items.