Reviews and Ratings written by Library Users and Staff from all over the world. Every Review written in our system have been written by a Library User, through a Library Catalog and moderated by a Librarian.

Alongside the Patron Reviews you will find the Professional Reviews from several verified sources that your community is used to finding in your online catalog.
Features
See How Reviews and Ratings work?
Easy to implement with a FREE 30-day trial with no strings attached - just sign up on our website, you will get ChiliFresh account ID and API key to your e-mail - add them to your catalog's Control Panel and the Reviews & Ratings will start displaying in your search results and item details pages and look like this: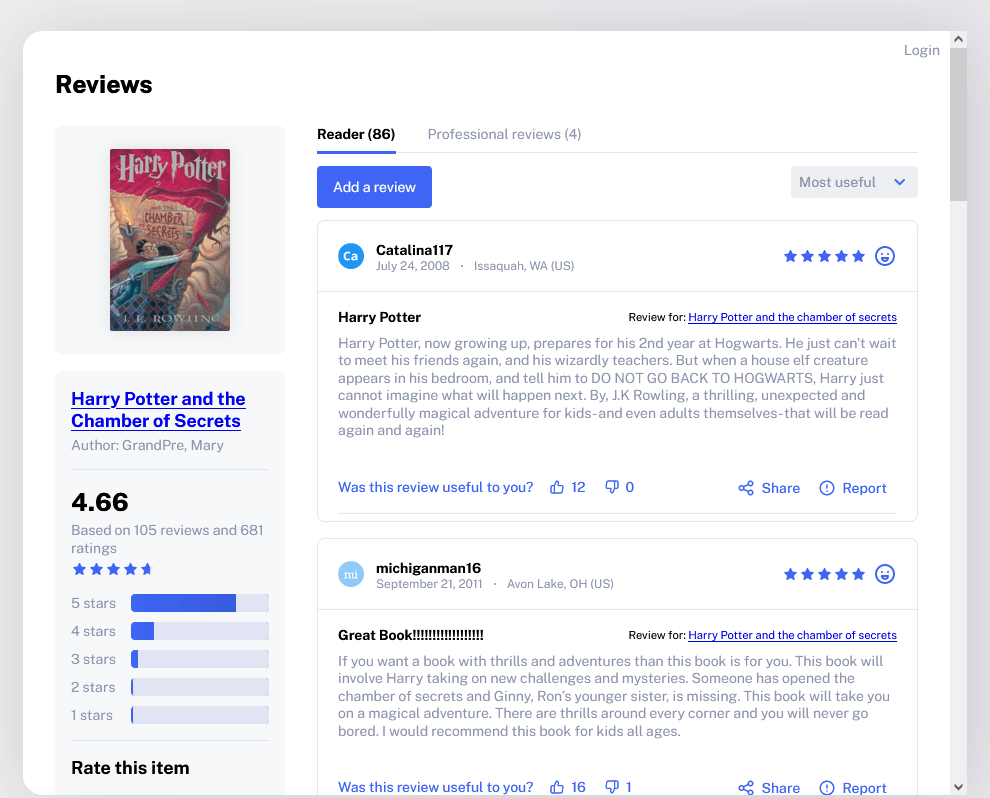 You get full control of the Review & Rating content displayed - you get default settings once you start using Reviews & Ratings, but you can control everything - what languages the Reviews are allowed in, from which geographic regions and what library types (public, academic, school libraries, etc.) you want to display reviews from, etc.
Showcase your user and staff activity on your library's website - add a simple widget that embeds with just one line of code such as this:
Get detailed user activity analytics on Reviews and Ratings - see how many reviews have been read, how many ratings seen, which are the most popular items rated and reviewed. We also send automated monthly analytics e-mail to your staff.
How ChiliFresh Book Reviews & Ratings work?
ChiliFresh Reviews and Ratings can be added to any of the library online catalogs, see for yourself ChiliFresh Reviews and Ratings in action in some of the catalogs here: