Discovery with a human touch - Starting today, you will not only discover everything linked to the catalog, but you will be learning what other people are reading, saying and sharing related to your search.
Readers Advisory - Staff can personalize content rich lists complete with comments and links to distribute on a 1 to 1 basis or to groups of people.
Personalized Bookshelves & Booklists - The perfect way to keep track of what you are reading, what you have read and what you plan to read. Bookshelves are intended for private reading tracking, but you can opt-in to share them publicly. Booklists, on the other hand, can be created as many as necessary for different purposes - whether it is a staff response to reading advisory request, users creating list of best cook books or library sharing seasonal or award reads, such as this 2021 Booker Prize Shortlist.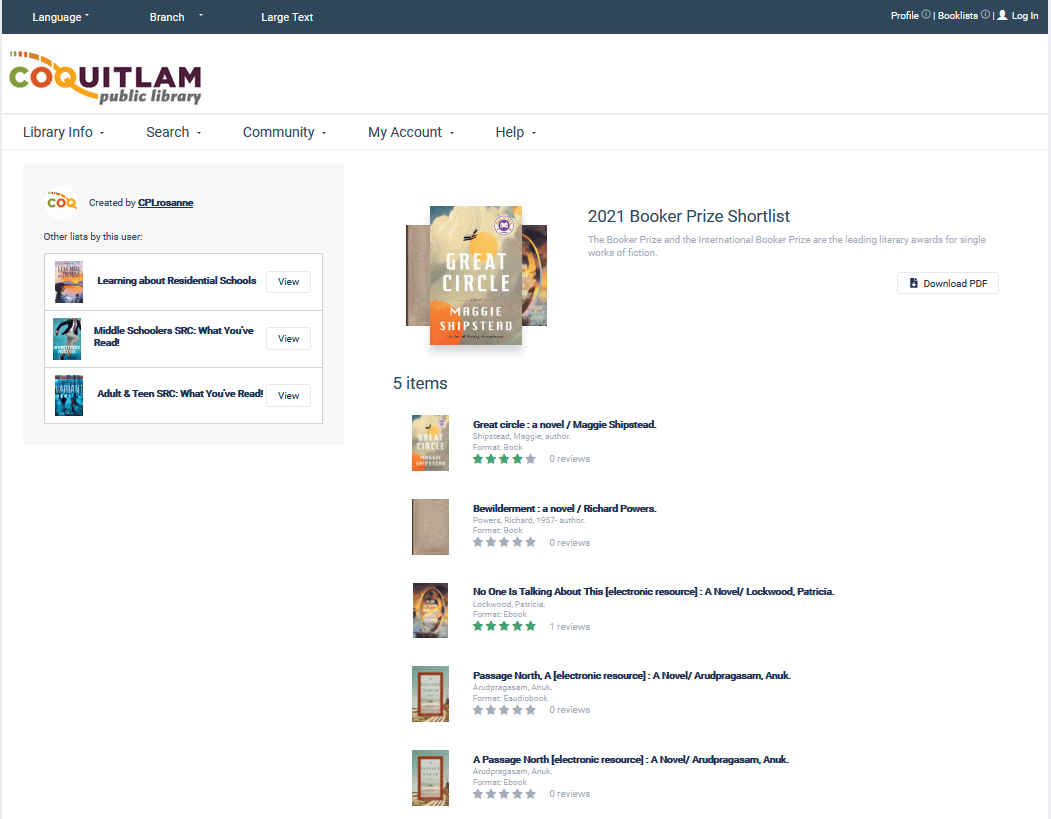 Showcase Staff and user booklists on websites - you can easily create responsive Book carousel widgets based on created or dynamic book lists that can be simply embedded into library's or any website with a simple line of code like this:
Detailed activity analytics - as for other ChiliFresh products, you get detailed analytics on your user activities. You see everything - starting from usage of booklist and bookshelves, user increase, as well as which are the most popular booklists and which booklists drove new placed holds.
Your online catalog becomes a natural reader's advisory tool completely generated by your community and library communities from around the world. Your Staff and Users can create extended profiles and create, manage and share BookLists and Bookshelves in social networks or over e-mail or patron chat as a PDF or link to your catalog. This makes your online catalog a truely user friendly, interactive tool.
Then comes the magic - ChiliPAC integrates Bookshelves, Booklists, Users and Review & Rating activity into the catalog search results. Your catalog connects Users with Library Staff and Users with other Library Users from around the world all based on individual literary interests and habits.